DStv Nigeria:- DStv is owned by Multichoice Africa Limited. Multichoice is a subsidiary of Naspers, a multinational internet and media group based in South Africa.  DSTV Nigeria is the Nigerian branch of DStv.
YOU MAY ALSO LIKE: DStv Packages, Prices And Full Channel Lists In Nigeria.
DStv Nigeria Decoders And Their Latest Prices
There are two types of DStv Decoders available to DStv Nigeria subscribers. They include the DStv Zapper HD decoder and DStv Explora Decoder.
DStv Zapper HD Decoder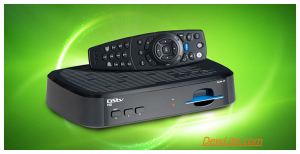 The DStv Zapper HD is a Single View Decoder  so you can only view one channel at a time.  DStv Zapper  HD Decoder replaced the DStv Standard definition decoders. It brings you all of the actions and entertainment in crystal clear HD picture quality.
As a single view decoder, you cannot record the contents you are viewing. The DStv HD single view decoder is XtraView capable and can be paired with selected XtraView compatible decoders.
Current price of DStv HD Single view decoder in Nigeria
Promo price:– ₦ 9,900 for  dish, one month free subscription to the DStv Compact package but excludes installation. Only decoder without dish is ₦ 5,000.
Standard Price:-   N12,500 for the dish with one month compact subscription.
DStv Explora Decoder
The DStv Explora Decoder simply changes the way we watch TV. It is the most advanced DStv decoder available to DStv Nigeria subscribers.
DStv Eplora is both a HD and PVR decoder which means that it does not only offer a high definition  viewing experience but you can also record what you are viewing. It has the capacity to record up to 220hrs of content. It has a memory capacity of 1TB for your recording.
The DStv EXPLORA Decoder is a double view decoder. This feature lets you connect to two different Televisions and view different channels at the same time.
Other great features of the DSTV Explora decoder includes: DStv Catch Up,  which lets you watch the programmes you have missed for up to 48hrs on. 
DStv BoxOffice is another feature which gives you access to blockbuster movies. You can download or rent these movies and  keep them for up to 48hrs. First rental of movies from BoxOffice is free.
Current Price of DStv Explora In Nigeria
DStv Explora decoder is currently sold for N30,000 in Multichoice offices across Nigeria. It also comes with a free 1 month subscription to the compact Bouquet and the other accessories as in DStv Zapper decoder.
Remember that you can order for the DStv Nigeria Decoders from the of you home via their official website. It will only take maximum of three days to arrive at your door step. You can buy through other online shops like Konga and Jumia but it is more expensive.
To order for a DStv Nigeria decoder from official DStv website, click here.
For questions, complaints or you are having any difficulty with your DSTV Nigeria Decoder or Subscription, Leave a comment below.
YOU MAY ALSO LIKE: DStv Packages, Prices And Full Channel Lists In Nigeria.