After all the recent confusions and developments from Nigerian education sector on the mode of admitting students into tertiary institutions, most jambites have been left confused over their JAMB admission consideration status 2016. This is because there is no more aptitude test or post-UTME to be written. There is no need to worry anymore as you can now check your 2016 JAMB admission consideration status.
The Joint Admission and Matriculation Board, JAMB has recently released a portal for all the 2016 JAMB applicants who made the cut off mark of 180 and  met other admission criteria during the last UTME (JAMB 2016) examinations to login and check if JAMB have considered them for admission or not in the 2016/2017 session.
The portal to check JAMB Admission consideration Status enables the candidates to check which school, department or courses in which they have been considered for admission by JAMB after JAMB LOGIN with their 2016 JAMB registration numbers.
HOW TO CHECK JAMB ADMISSION CONSIDERATION STATUS 2016
Checking the JAMB admission consideration status 2016 is very easy and simple. All you need is either your phone, tablet or computer that has an internet connection. You do not actually need to go to an internet cafe or cyber cafe before you can check your  2016 Jamb admission status.
To check if you have been considered for admission by JAMB in the 2016/2017 academic session, follow the following steps:
Go to jamb official website www.jamb.org.ng
Check  for 2016 UTME in the left hand side of the JAMB home page and under it you will see "Check Where you have been posted for Admission Consideration"
Click on where you have been posted for admission consideration
Enter your 2016 JAMB registration number in the new page that openned
Below your registration number, you will see check where you been posted for admission consideration, Please click on it after you have entered your correct JAMB registration number
Your can also check directly through the Jamb Post Registration e-Facilities portal in which case you do not need to enter the official website, you just go straight to the 2016 JAMB Admission Status Checker and you enter your Jamb reg. no. as we already stated above.  
To enter the JAMB e-Facilities portal and check admission status, click here.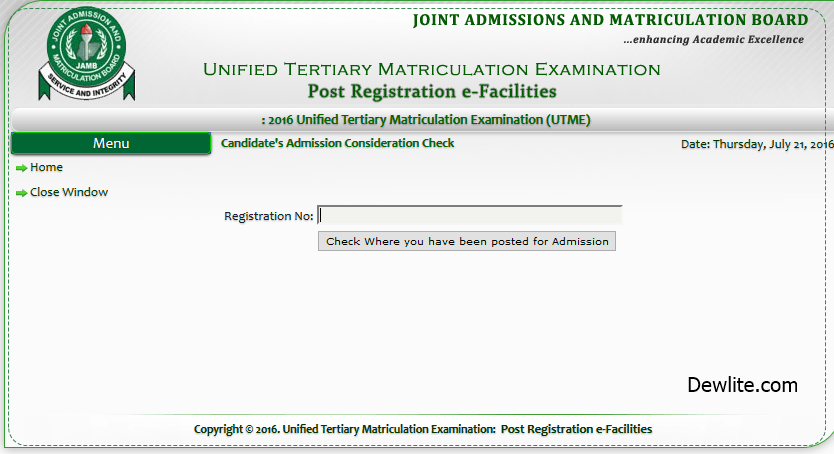 PLEASE NOTE: You can get a response of which school you have been posted to for admission consideration which means your data has been fully processed by JAMB. On the other hand, some candidates will receive a response that says "sorry you have not been posted yet"

If you fall under the second category, no hope is lost, all you have to do is to keep checking from time to time, so far you got the JAMB cute off mark and met other 2016 JAMB admission criteria.
It will be recalled that the federal government of Nigeria had recently cancelled the conduct of UME or aptitude test by individual universities for 2016/2017 session in order to allow JAMB to do their work.
The decision also prevents what the Nigerian Government saw as extortion of candidates on the part of the universities and other tertiary institutions.
2016 JAMB Admission Criteria
JAMB subsequently made it clear that the Criteria for 2016/2017 admission will be Senior School Certificate Examination (SSCE)/Advanced Level results for verification and clearing purposes.
JAMB went on to add that WAEC, NECO and NBTE results or their equivalent are acceptable as matriculation requirements with at least 5 credits.
Admission would be based on three legally backed pillars of: merit, catchment areas and educationally less developed states (ELDS).
Congratulations to all the Jambites who have succeeded in joining the aluta group this year after being considered for admission by JAMB which also automatically makes them great Nigerian students.
For further inquiries or clarifications, or suggestions on how to check JAMB Admission Consideration Status 2016, please leave your questions in the comment box below. Thanks.