Most developers of Android applications do not make provision for the users of such apps to create multiple accounts on the same smart phone and at the same time. This barrier has been broken by Parallel space. This article is going to guide you on Parallel space free download for Android and how to create multiple Whatsapp accounts on your smartphone.
Parallel space is a super-interesting free app that lets you use two accounts in your smartphone simultaneously on one app. Parallel space enables users to login to multiple social networking or gaming applications at the same time on the same phone.
This parallel space creates a replica of your original app installed completely independently. Each of the apps can be associated with a different account and both run simultaneously without interfering with each other. You can even get notifications for each your accounts separately.
Steps To: Parallel Space Free Download For Android
As already stated, parallel space Free download is easy and  free for all android devices.All you need is to have an active data plan on your android smartphone.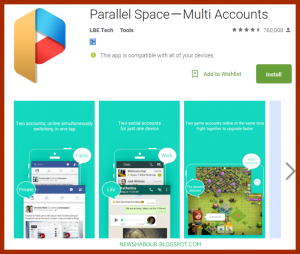 To download Parallel Space Latest version, follow the steps outlined below:
Launch Google Play Store on your smartphone
Go to the search bar and type in Parallel Space
Click on the parallel space multi accounts and install.
That was Very simple, isn't it? Well I believe it was.
How To Create Multiple Whatsapps Account on Your Android Phone Using Parallel Space
Having completed your Parallel Space free download for Android, we will use this part of the article to discuss how to use Parallel space app. We will be using Whatsapp as an example on how to use parallel space app. Just follow the easy steps below to create multiple Whatsapp accounts:
Launch the parallel space app you just downloaded
You will get a list of all the apps installed on your phone
Select the app that you want to create a second account for, lets say Whatsapp
Add it to your list of parallel space apps
You can now create a shortcut for the new app on your home menu or desktop so that you have two different icons for the app which is the replica app you just created and the original app.
Having done the simple steps above, you are goo to go. Just launch the  new app and register your new whatsapp account appropriately at no cost.
For more information, questions and clarification, please use the comment box below.  Thanks for reading and always remember to come back to Dewlite.com for more.