Do you want to make cool money online? Do you own a website, blog or any content online and would want to make money from it? Then you surely have to enroll in the Google Adsense account program. Adsense is an online advertising program by Google which enables bloggers and content owners to make cool money by placing ads on their site. We have devoted this post to teach you how to Create Adsense Account for your blog or website.
Even though the Google Adsense program is the most popular way to make money online via contents, we have observed that many website owners or new bloggers do not know how to create Adsense account. Adsense Sign up or Adsense account registration is very easy. All you have to do is to carefully read and follow this article that we have specially made for you.
What do I need to Create Adsense Account? – Requirements for Adsense Account Sign up
Before you can go on to create Adsense account, there are basic requirements that you will need to meet. Those requirements includes;
You must have a Google account. That is to say that you must have any account with any Google service like Gmail, Youtube, Google+, Google Drive Etc. If you do not have a google account click here to create Google account.
You must own a website or Blog to be able create new Adsense account. You cannot apply for an Adsense account without a website or blog.
---
READ ALSO: CREATE GMAIL ADDRESS : CREATE GOOGLE ACCOUNT : GMAIL SIGN UP
---
Those are the two criteria you need to meet before you can own an Adsense account. Now that that you know what it takes to apply for Adsense Account, let us go straight to Adsense account application proper.
How To Create Adsense Account: A Step By Step Guide On How To Apply For Google Adsense Account
The following are the easy steps to create an Adsense accounts have met adsense application requirements listed above;
1. Go to  the Adsense homepage via www.adsense.com
2. Click on the "Sign Up Now" button
3. Choose the Google Account with which you want to apply for Adsense account by clicking on it. Google will list all the Google accounts that have logged in with the device you are using via that browser. If the Google account you want to use has never been logged in on that browser before the click on the "Use another Account" button as shown in the photo below.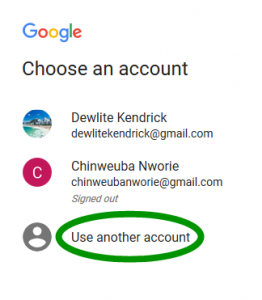 4. Enter the Url of your blog or website with which you want to apply for Adsense in the space provided for it. It is important to note that you do not need to enter the url using HTTP OR HTTPS. Simply enter as www.sitename.com. An example has been shown in the pix below:
5. Check the box that says yes under the get more out of Adsense. This will enable you to get all the latest improvements and opportunities from Adsense should your Adsense account application be successful. See an example in the pix below:

6. Select your country or territory.
7. Go through the Google Adsense online terms of service and check the box at the bottom to accept the TOS. You must accept before you can successfully create Adsense account.
8. Then click on Create account at the foot of the page to complete Adsense Account account creation. You will automatically be logged into your new Adsense Account as soon as you complete the above steps correctly.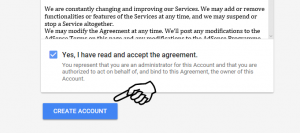 Congratulations if you just completed the above steps. You just completed your adsense account creation. Now what is left is Adsense account activation.
---
READ ALSO:  CREATE GOOGLE ACCOUNT : GMAIL SIGN UP
---
Adsense Activation: How to Activate your new Adsense Account to get it up and running
In the first session, we have taken you on how to create Adsense account. In this second session we are going to take you through the steps involved for you to activate your Adsense account.
To activate your Adsense account you have to complete the tasks on your Adsense account home page. Google will display those tasks on your homepage when you log in Adsense account. The tasks includes:
1. Provide your payment address details:
You have to pay particular attention to this session if you wish to get your payment without difficulty. Enter very correct details that are verifiable. You have to:
Select account type which can be individual or business as the case may be
Enter your payment name and address. Please you have to enter name correctly as in your bank details. Also enter a correct address because your activation code will be sent to the address chosen.
Enter your City, postal code, State and Phone Number.
When you have successfully completed the form click on "submit"
2. Connect your site to AdSense: 
Create Ad Code
Then copy the code exactly as it appears in the card on your AdSense Account  homepage.
Paste the code into the HTML of the website you provided you  used to create AdSense account
It is good to note that the code must be placed on a page that has content and receives regular visitors.
3. Verify your phone number (Note that this task is not required in all countries.)
To verify your phone number, a code will be sent to the number used to create Adsense Account. Then enter the code in the space provided for it. You will either verify your phone number by text or via voice call from Google.
---
PLEASE NOTE: After you complete Adsense account application, you will have to wait for Google expert teams to review your application. If your site meets up with the requirements, then a congratulatory message of approval will be sent to you. If on the other hand you are not approved just keep working on you site and keep apply. Never loose hope because it took some of us 6 months to one year to get approval.
---
How to Create Adsense Account: A Summarized Version
Here is a brief summary of what we said above on how to create Adsense account:
Visit www.adsense.com
Click "Sign up now".
Choose a Google Account to use for AdSense Sign up.
Enter the URL of website .
Choose whether you would like AdSense to send you customized help and performance suggestions.
Select your country.
Read and accept the Google AdSense Terms and Conditions.
Click "Create account".
How to Activate New Adsense Account: A Summarized Version
After you create Adsense Account, you will need to activate your AdSense account before you can show ads and get paid. To activate you have to:
Provide your payment address
Verify your phone number (Note that this task is not required in all countries.)
Connect your site to AdSense
That is that on how to create Adsense account or Adsense Account application as well as Adsense Account activation.
---
Please share this article with your friends on Facebook, Twitter and other social media to enable them enjoy this easy way to Make money online.
---
Please use the comment box below to ask your questions or share your experience on Adsense generally or on the topic how to create Adsense Account and Adsense Activation. Thanks for dropping by!